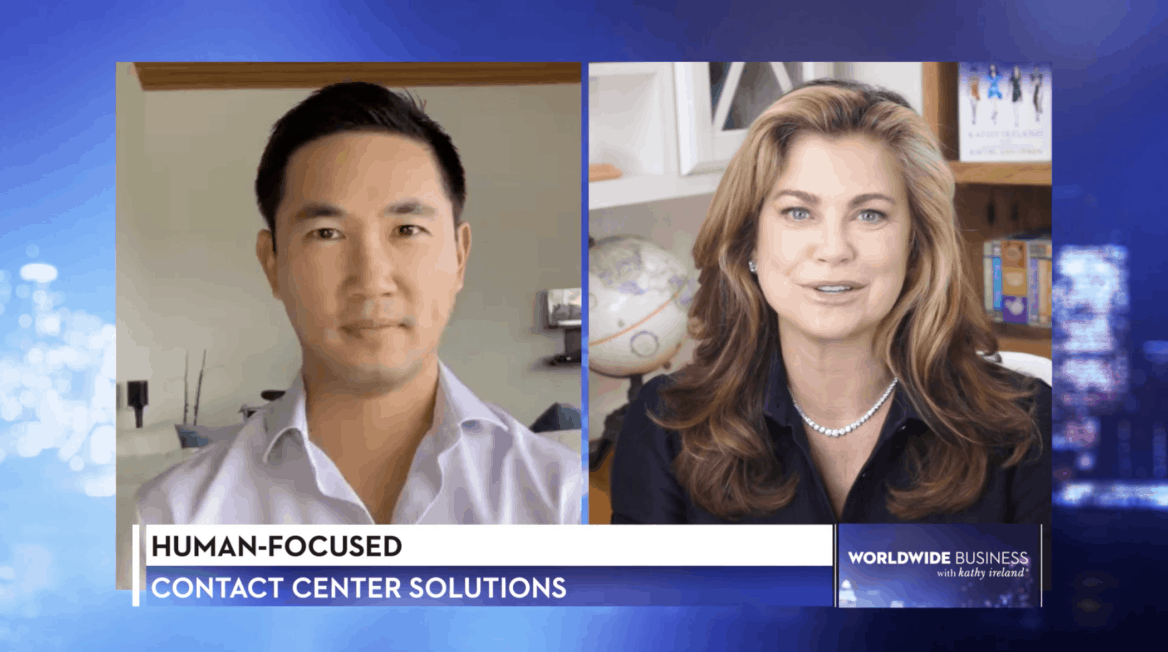 In December 2020, NexRep CEO Teddy Liaw appeared on Worldwide Business with Kathy Ireland® to explain how NexRep has provided thousands of Americans with work–from–home opportunities during COVID. This article features key takeaways from the interview, links to catch the interview on TV or online in February 2021, and more information about work–from–home opportunities with NexRep.
When COVID-19 and social distancing forced widespread shutdowns in early 2020, many brick and mortar businesses were suddenly faced with a brand-new challenge – working remotely.
Luckily, NexRep was standing by, ready to assist with more than 7,000 customer service agents, all of whom work from home. While the process of recruiting thousands of agents during a national pandemic was new for the NexRep team, working from home was not.
"[We've always worked remotely], so we already had the infrastructure in place. As a result, we were able to add thousands of work opportunities for Americans, coast-to-coast, since COVID started," said NexRep CEO, Teddy Liaw.
NexRep helps online grocery delivery, telemedicine companies scale operations mid-pandemic
Founded in 2009 as a scalable alternative to brick-and-mortar call centers, NexRep was an early adopter of cloud technology and remote work. Today, the company operates as a 100% virtual, omnichannel contact center. Remote services can be provided via online chat, email and phone. NexRep's expertise in virtual business solutions has proved invaluable to companies that need to keep up with consumer demand during COVID.
For example, in the spring of 2020, the largest grocery delivery company in the US needed to onboard hundreds of remote customer service reps to manage the demand for online grocery delivery. After signing a contract with NexRep, 1200 at-home customer service agents were sourced and trained by the NexRep team in just four and a half weeks.
Similarly, the pandemic sparked an increase in consumer demand for telehealth services. Recognized as a leader in the virtual call center industry, NexRep partnered with the nation's largest telemedicine company to quickly recruit hundreds of remote customer service reps in 2020.
Unlike most BPOs, NexRep contracts exclusively with US-based customer service agents
Individuals must be a current resident of the United States in order to qualify for a work-from-home contract with NexRep. This is a sharp contrast to traditional BPO (business process outsourcing) providers, which primarily contract with agents in India or the Philippines.
"NexRep has an entire marketplace of American workers and we're able to deliver that customized, personalized experience that people want," said Liaw.
NexRep's vast network of remote agents are independent contractors that apply for work-from-home opportunities via the NexRep Marketplace. At minimum, individuals must complete an online questionnaire, phone screening, and background check in order to provide services on behalf of a NexRep client.
Human-focused company with a quality-over-quantity approach to operating a remote call center
Unlike other virtual contact centers that charge up to $40/month in membership fees, there is no cost to join the NexRep Marketplace. NexRep's operations team also provides active contractors with educational materials that are specific to the client, as well as free ongoing support.
Whether you're looking for part-time remote work due to COVID, or a work-from-home opportunity with room for growth, there are many options available with NexRep. Liaw encourages anyone with a passion for helping others to apply via the NexRep Marketplace.
"It's all about the human experience and having a connection," said Liaw. "People don't want to talk to a robot, they don't want to press 1, 2, 3, or 4. They want to speak with somebody they can relate to."
Watch the exclusive interview with NexRep CEO Teddy Liaw on Worldwide Business with Kathy Ireland® – follow NexRep on Facebook, Instagram, Twitter and LinkedIn to get upcoming airtimes throughout February 2021!
Work-from-home opportunities for independent contractors – Start now, set your own schedule, earn up to $15/hr
Create a free account on the NexRep Marketplace to apply now! Work-from-home opportunities are available in remote customer service, inbound sales, outbound sales, and more.