National Work from Home
for Wellness Day

Work from home, find balance, and be well!
Most people know that there are some pretty great perks to working from home, but were you aware that the work from home model has significant wellness benefits too?
Celebrated annually on August 16th, during National Wellness Month, National Work from Home for Wellness Day was established by NexRep with a few important goals in mind:
To celebrate the positive impact that working from home can have on an individual's physical, mental/emotional, relational, and financial wellness.
To provide people with an opportunity to learn about these benefits and consider whether working from home is a good fit for their own lifestyle and wellness goals.
To maximize the number of people enjoying work-life balance and a sense of overall well-being.
NexRep is celebrating the launch of National Work from Home for Wellness Day with a HUGE giveaway that will give one lucky person a complete home office setup! Valued at $2k, this 'Work from Home and Be Well' prize package includes:
Desktop computer
Dual monitors
FlexiSpot standing desk
Ergonomic office chair
Air purifier
Mouse and keyboard combo
USB headset with noise-cancelling microphone
HD webcam
Keep reading to learn more about the wellness benefits of working from home and enter the 'Work from Home and Be Well' giveaway for your chance to win a complete home office setup worth $2,000!
We surveyed nearly 400 people with WFH experience…
At NexRep, we strongly suspected a positive correlation between wellness and working from home based on our firsthand experience working remotely since 2009, but since this way of doing things has only gained widespread popularity over the last few years, we didn't have a lot of data to verify that.
We wanted to know if our assumptions about wellness and working from home were true, so to help us gain a clearer understanding of the actual impact, we surveyed nearly 400 people who had experience working from home. We asked them about the impact working from home had on various aspects of their wellness compared to their experience in a traditional work setting.
This survey generated many useful insights regarding the numerous benefits of working from home, and it left us feeling optimistic about the potential of the work from home model to help people improve their physical, mental, emotional, social, and financial well-being.
However, please note that the research sample used in data collection was comprised of current NexRep Marketplace contractors or Rat Race Rebellion email subscribers, all of whom already work from home, have worked from home in the past, and/or have previously expressed interest in working from home. A survey among a random sample of working-age U.S. residents may yield different results.
Keep reading to see what we learned from our survey respondents!
How does working from home impact physical wellness?
Our survey results indicated that respondents experienced improvement in several significant areas of physical wellness as a result of working from home.
Compared to when they were working outside of the home, many respondents reported that they enjoyed better quality of sleep, had more energy, and experienced better overall physical health.
66% of people who disclosed having a chronic illness or disability indicated that it was a factor in their decision to work from home, and 92% of those individuals reported that working from home made their disability or chronic illness easier to manage.
A few factors that may contribute to the physical wellness benefits of working from home include:
Working from home makes it easier to create a comfortable environment for yourself that is tailored to your individual needs.
Compared to working outside of the home, there is less exposure to germs when working from home, which could be particularly beneficial for immunocompromised individuals.
Working from home can help make it easier to practice healthy eating habits, such as reducing fast food consumption and preparing more meals in your own kitchen.
Working from home allows you to reclaim the time that used to be spent commuting to and from work, which you can use for wellness-enhancing activities like getting more sleep or fitting some exercise into your day. In fact, 58% of our survey respondents indicated that they're able to sleep more now that they work from home, and 56% said that they found it easier to fit more physical activity into their day!
---
How does working from home impact mental and emotional wellness?
Of all the work from home wellness benefits measured in our survey, mental and emotional benefits were the most significant, with the majority of respondents reporting a reduction in anxiety about work, less overall stress and anxiety, improved ability to manage their stress effectively, and improved work-life balance.
Working from home can positively impact overall mental and emotional health in numerous ways, including but not limited to:
Improving your sense of work-life balance, which can reduce stress by helping you feel better equipped to manage both personal and professional responsibilities.
Reducing distractions during working hours, which can help enhance your focus and productivity.
Freeing up more time for hobbies and activities that you enjoy.
Providing you with a greater sense of autonomy, which can help reduce stress, improve job satisfaction, and increase motivation according to the Association for Psychological Science.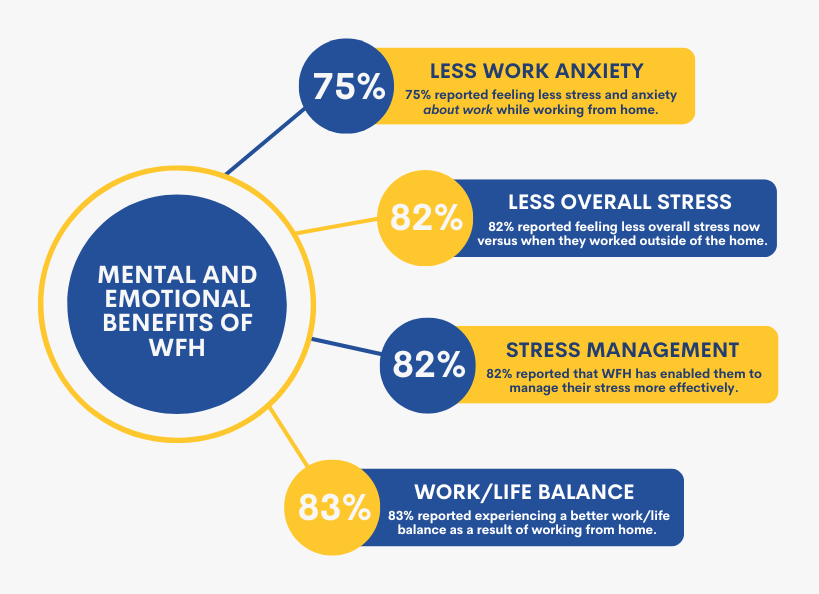 ---
How does working from home impact the health of your relationships?
Our survey data indicates that working from home positively impacted respondents' relationships by enabling them to spend more time with family and friends, improving the quality of their relationships, helping them better manage their professional and parental responsibilities, and helping them be more present and active in their children's lives.
Social health impacts many other aspects of wellness, including physical, mental, and emotional health – so the advantages of social connectedness are far-reaching. According to the CDC, "People with meaningful social connections have: less stress and better sleep, better overall health that can lead to a long life, healthier habits and behaviors, better quality of life, and a sense of belonging."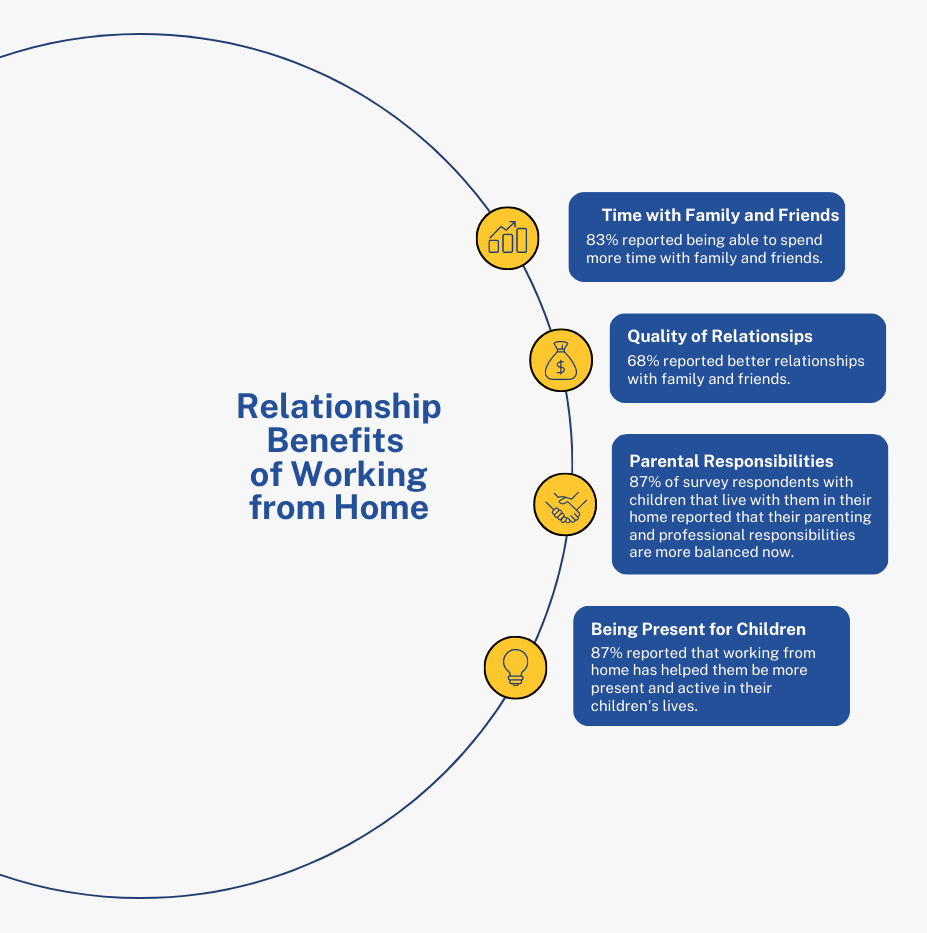 ---
How does working from home impact financial health?
Of the survey respondents who indicated that working from home saves them money, 87% reported saving money on transportation and professional attire. 57% reported saving on childcare, and 47% reported saving on food. The average annual savings reported across all of these categories totaled $7,763!
Considering that financial issues are a top source of stress for many people, big savings like this are significant in terms of their potential to provide peace of mind and improve an individual's overall sense of well-being.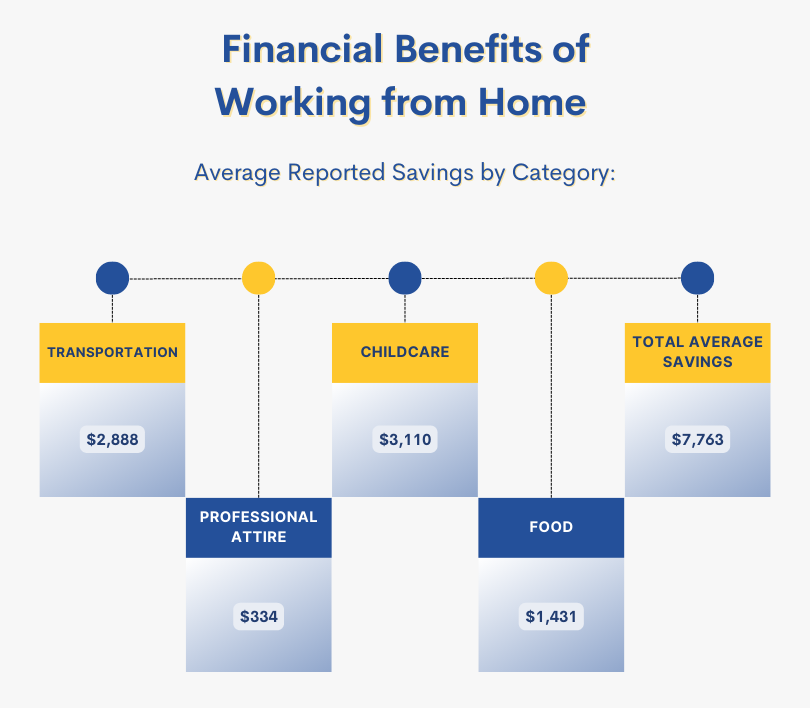 ---
The Environmental Impact of Working from Home
Survey respondents reported commuting an average of 4.9 days per week prior to working from home. Based on the average number of miles they reported commuting each week, working from home helped save 4.1 metric tons of CO2 per driver per year!
According to the EPA's Greenhouse Gas Equivalencies Calculator, that savings is equivalent to 4,593 pounds of coal burned, or 461 gallons of gasoline consumed!
Bottom line: don't underestimate the positive environmental impact that one person can make by working from home!
---
Top reasons to work from home
As you can see, there's a lot to celebrate about working from home! If you need even more reasons to celebrate, check out this video to see what our survey respondents had to say about the top reasons they enjoy working from home!
How to Celebrate National Work from Home for Wellness Day
Here are some simple ways you can celebrate National Work from Home for Wellness Day:
Share a post on social media about how working from home has impacted your life, using the hashtag #WFHforWellness.
If you're not currently working from home but you'd like to be, start your transition today by applying for a WFH opportunity.
Share a work-from-home opportunity with friends and family.
Make the most of your time at home today by doing something for your health that you couldn't do working outside of the home, like preparing a favorite healthy meal or choosing a fun workout to do during your lunch break.
Make today the day you commit to adding one new healthy habit to your work-from-home routine, like stretching frequently or drinking enough water throughout the day.
Enter the 'Work from Home and Be Well' giveaway below for your chance to win a complete home office prize package worth $2k!
NexRep is a Marketplace Platform that connects US-based contact center professionals with third-party clients. The NexRep Marketplace Platform is designed to empower independent contractors to provide services from home and create their own schedules, all while delivering world-class customer experiences and exceptional results for top American companies. To learn more, visit NexRep.com.
Are you looking for a work from home opportunity?